The Company
Contemporary Circus Company from 1997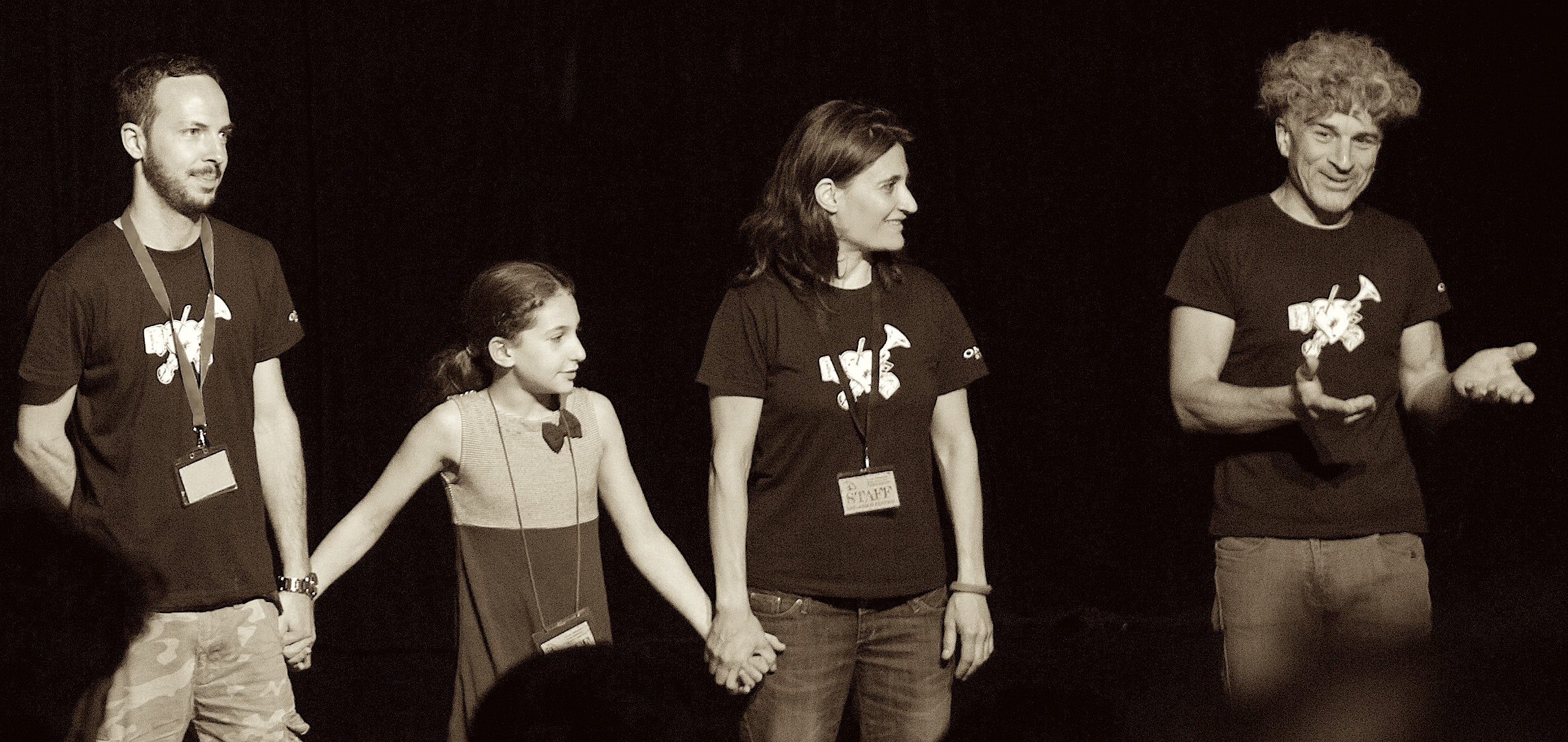 Aims of the company
Promotion of the art of innovative circus for children and adults

Theatre, music and circus workshops

Promotion and production of theatrical, musical and contemporary circus shows

Organization of cultural events, public events of Theatre, Music and Contemporary Circus
To achieve this, the Company has collaborated and collaborates with various associations and theatre cooperatives, regional multidisciplinary circuits, municipal administrations, schools, promoting shows, readings, refresher courses and workshops.
Actors, musicians and circus artists, Nando and Maila are among the first to found a company of contemporary circus that experiments with the mingling of languages when there was still no real movement of contemporary circus in Italy, nor circus schools. This stimulated an absolutely original, innovative and personal approach to research, putting into play the experience gained in various backgrounds (music, theatre and dance) rather than an academic circus training. The fusion of languages is recognizable in the characters on stage, who play music and articulate circus techniques in an attempt that makes the need to draw boundaries substantially useless. For us, live music has a key poetic role, we try to merge circus action with musical performance, in a single gesture, and we propose an understandable, transversal and accessible dramaturgy to the most heterogeneous audience possible.
In 2011 the company founded the School of Educational Ludic Circus "ARTinCIRCO" in Ozzano dell'Emilia.
Since 2016 the Company has curated the artistic direction of the Contemporary Circus Festival "Dulcamara Circus". The Festival aims to propose a poetic line in harmony with our research that wants to enhance the performing arts and the fusion of languages. The goal is to create an innovative cultural offer in the area where our Association operates (Ozzano dell'Emilia and neighboring municipalities). The initiative aroused a lot of curiosity and was rewarded with a lot of participation.
In May 2018 the Company debuted in the Artistic Direction of the Contemporary Circus Festival "ARTinCIRCO Festival", another annual appointment on the territory of Ozzano dell'Emilia (BO).
In September 2018 they debuted the show "Cabaret circense".
In June 2019 the Company debuted the show "Tunes for tubes" and won the "Award for the continuity and growth of the artistic path of the Company" at the Mirabilia Festival (Fossano – CN).
Cabaret and TV
ZELIG LAB – Bologna, 2010, 2011 and 2012
RAI 2 – "BRAVO THANKS" broadcast, Semifinal and Final of the 2006 Cabaret competition
RAI 2 – 2006 "FUTURA CITY" broadcast
RADIO 2 – "L'OTTOVOLANTE" transmission 2005
Prizes and Awards:
Winners of the Cabaret competition "La Lisca", Genoa 2005
Participation in the "Cabaret Amore Mio" Festival, Grottammare 2005
Walter Chiari Prize as revelation Cabaret Emergente Festival, Cervia, 2005
Winners of the Critical Festival Award of the Emerging Cabaret Teatro Storchi, Modena, 2005
Kalinka" won the "Fuso d' argento" at the festival "The island that does not exist", Irgoli 2009 and the prize for best artists at the "Giullarte XII" Festival in Atripalda (AV) 2011.
"Sconcerto d'amore" won the "Coup de cœur" prize of the XXI International Festival of Arts de la Rue "Bastid'Art", Miramont de Guyenne (France) 2015.
The Company has received the "Award for the continuity and growth of the artistic path." From the Mirabilia Festival 2019.
Company productions:
The productions in the repertoire of the company are "Kalinka", "Sconcerto d'amore", "Cabaret Circense" and "Sonata for tubes", which since 2004 have made over 1800 performances in Italy and abroad, both in theatrical settings, and in the context of national and international festivals:
Theaters
Teatro Alfieri di Asti
Civico Teatro di Savigliano (CN)
Teatro Curci di Barletta
Teatro Comunale di Foggia
Teatro al Parco di Parma
Teatro Garibaldi di Bisceglie
Teatro Comunale di Belluno
Casa del Teatro Ragazzi e Giovani di Torino
Casa della Musica di Parma
Auditorium del Conservatorio di Mantova
Teatro dell'Antoniano di Bologna
Teatro Civico di Sassari
Teatro Puccini di Firenze
Teatro Auditorium Concordia di Pordenone
Teatro Villani di Biella
Teatro Coccia di Novara
Teatro Laura Betti di Casalecchio di Reno (BO)
ITC Teatro di San Lazzaro di Savena (BO)
Teatro Comunale G. Verdi di Lonigo (VI)
Teatro Comunale di Ruvo di Puglia (BA)
Teatro Comunale di Fontanellato (PR)
Teatro Da Ponte di Vittorio Veneto (TV)

Teatro Super di Valgano (VI)
Teatro Misa di Arcevia (AN)
Teatro Panettone di Ancona
Sala del Suffragio di Medicina (BO)
Teatro Astra di S. Giovanni Lupatoto (VR)
Teatro Comunale di Marzabotto (BO)
Teatro della Città della Scienza di Napoli
Teatro Troisi di Nonantola (MO)
Teatro G. Villa di San Clemente (RN)
Teatro Comunale di Cavallino-Treporti (VE)
Sala Centofiori di Bologna
Multisala 900 di Cavriago (RE)
Palafolli di Ascoli Piceno
Teatro Ariston Castelnuovo Rangone (MO)
Teatro Bismantova Castelnovo ne' Monti (RE)
Teatro Frabboni di Savigno (BO)
DIM Teatro Comunale di Castelnuovo del Garda (VR)
Teatro Comunale di Ceglie Messapica (BR)
Teatro Boni di Acquapendente (VT)
Teatro Magnani di Fidenza (PR)
Teatro Le Serre di Grugliasco (TO)
Teatro Filarmonico di Piove di Sacco (PD)

Espace Malroux Chambery (Francia)
Teatro Bastero Andoain (Spagna)
Palais des Congres Evian (Francia)
Salle des Festivites Ginevra (Svizzera)
Theatre Communale Savines le Lac (Francia)
Espace La bonne fontaine Folcalquier (Francia)
Salle des spectacles Argentières la Bessée (Francia)

Auditorium Montgenevre (Francia)
Salle des fêtes St Colomb de Lauzun (Francia)
Salle de fete du Lignon Vernier (Svizzera)
Salle du Mont Favy Les Carroz (Francia)
Auditorium Gilles la Rocque Curchevel (Francia)
Espace Le nouveau monde Fribourg (Svizzera)
Salle des spectacles Risoul (Francia)
Festival
CIRCUMNAVIGANDO Genova
LAMEZIA SUMMER TIME Lamezia Terme (CZ)
GIFFONI FILM FESTIVAL Giffoni Valle Piana (SA)
WORLD DANCE MOUVEMENT Castellana Grotte (BA)
STRAFESTIVAL Colle Corvino (PE)
ASFALTART Merano (BZ)
LA LUNA NEL POZZO Caorle (VE)
MIRABILIA Fossano (CN)
VEREGRA STREET FESTIVAL Montegranaro (FM)
SCENICA FESTIVAL Vittoria (RG)
SALENTO BUSKERS FESTIVAL Provincia di Lecce
URSINO BUSKERS FESTIVAL Catania
MAST FESTIVAL Cardano al Campo (VA)
FESTA DELLA LUNA Ostuni (BR)
BIBLIOFEST Provincia di Bergamo
FESTIVALOVE Scandiano (RE)
LE FIERE DEL TEATRO Sarmede (TV)
FESTIVAL VOILÀ Feltre (BL)
FESTIVAL DELL'ARTE COMICA Castelfiorentino (FI)
CIRK FANTASTIC Firenze
TI FIABO E TI RACCONTO Bitonto (BA)
TRASPARENZE Modena
L'ULTIMA PROVINCIA Vigolzone (PC)
LA STRADA WINTER Brescia
LA NOTTE NERA Serra dei Conti (AN)
IL CANTO DELLE CICALE Provincia di Brescia
LE STRADE DEL TEATRO Provincia di Milano
IMPROVVISA Cotignola (RA)
GRO Imperia
ISOLE CHE PARLANO Palau (SS)
DALL'ISOLA DELL'ISOLA DI UNA PENISOLA Carloforte (CA)

ESPRESSIVAMENTE Barcellona P.d.G. (ME)
VARESE IN STRADA Varese
SIRIDE Brugherio (MB)
QUO VADIS Monterotondo Marittimo (GR)
CIRCONFERENZE Rho (MI)
LA STRADA Brescia
CÒ I PIÈ DESCALSI Vascon (TV)
BAJOCCOFESTIVAL Albano Laziale (RM)
FANTASTICHE VISIONI Ariccia (RM)
MERCANTIA Certaldo (FI)
ODISSEA Verolavecchia (BS)
LE STRADE CHE RIDONO Molfetta (BA)
SOGNI A SPAZI APERTI Pompu (OR)
FESTIVAL ARTI COMICHE S.Terenzio (SP)
RATATAPLAN Lessona (BL)
VISIONI Marciano della Chiana (AR)
VALDEMONE FESTIVAL Pollina (PA)
CUCU FESTIVAL Altopiano d'Asiago (VI)
KINDERFESTIVAL Bolzano
FESTIVAL DELLE GRAVINE Provincia di Taranto
RACCANTANDO Montegiorgio (FM)
TEATRO DEL MARE Chieti
IL TEATRO CHE CAMMINA Castel S. Pietro Terme (BO)
ARTISTI IN PIAZZA Pennabilli (RN)
LE CITTA' DEI RAGAZZI Vimercate (MI)
ANDERSEN Sestri Levante (GE)
FESTIVAL DEL TICINO Provincia di Varese
VISIONI Cortona (AR)
MAGGIO ALL'INFANZIA Gioia del Colle (BA)
LA LUNA È AZZURRA San Miniato (PI)

IL TEATRO IN FESTA Locarno (Svizzera)
FETE DE L'ACCORDEON Ploneour Lanvern (F)
FESTIVAL D'AVIGNONE Avignone (F)
LA RUE DES ETANG Saint Chamas (F)
AU PAYS DES ENFANTS Chateau d'Oex (CH)
LES ITALIENNES DE CLISSON Clisson (F)
Festival FETEN Gijon (E)
INTERNATIONAL CIRC FESTIVAL Leon (E)
INTERNATIONAL CIRC FESTIVAL Albacete (E)
TRAPEZI Reus (E)
ECLAT Aurillac (F)
ECCENTRIKA Samara (RU)
NEZ ROUGE Toulouse (F)
FUC! Pola (HR)
LA RUE DES ARTISTES Saint Chamond (F)
LES JEUDIS DE PERIGNAN Perpignan (F)
ULICA Kracow (PL)
LES ZACCROS D'MA RUE Nevers (F)
LES ITALIENNES DE CLISSON Clisson (F)
KLOVNBUF CARAVANA Izla, Murska Sobota (SLO)
ESCALES D'AILLEURS Plaisir (F)
FIT AL CARRER Vila Real (E)
KLOVNBUF Ljubljana (SLO)
FIRA TARREGA Tarrega (E)
PALP FESTIVAL Martigny (CH)
CHAMOROUSSE EN PISTE Chamrousse (F)

SAMBA RE-PERCUSSION Monleon-Magnoac (F)
WALDSTOCK Steinhausen (CH)
MOSTRA DE PALLASSOS Y PALLASSAS Xirivella (E)
FESTIVAL IKUSZIRKUS Andoain (E)
LA SEMAINE DU CIRQUE Vernier (CH)
ULICNIH SVIRACA Novi Sad (SRB)
SPANCIR FEST Varazdin (HR)
BASTID'ART Miramont de Guyenne (F)
LA MAR DE CIRK (E)
KIDELIRES La roque d'Antheron (F)
FESTIVAL DU CIRQUE Pitres (F)
ARTISTI DI STRADA Ascona (CH)
FESTIVAL IDEKCLICK (F)
SAGUNT A ESCENA OFF Sagunto (E)
PLACE A LA RUE Istres (F)
LES GEORGES Fribourg (CH)
LES ARTS DANS LA RUE Strasbourg (F)
ARCA Aguilar de Campoo, (E)
AU BONHEURE DES MOMES Le Grand Bornand (F)
AU PAYS DES ENFANTS Chateau d'Oex (F)
URBAKA Limoges (F)
SEMENTES Cascais, Montemor o Novo (P)
FIRA MEDINERRANÌA DE MANRESA Manresa (E)
KUNSTEN OP STRAAT Almelo (NL)
OLALÀ Lienz (A)
CHALON DANS LA RUE Chalon sur Saone (F)